"High achievement always takes place in the framework of high expectation."
-Charles Kettering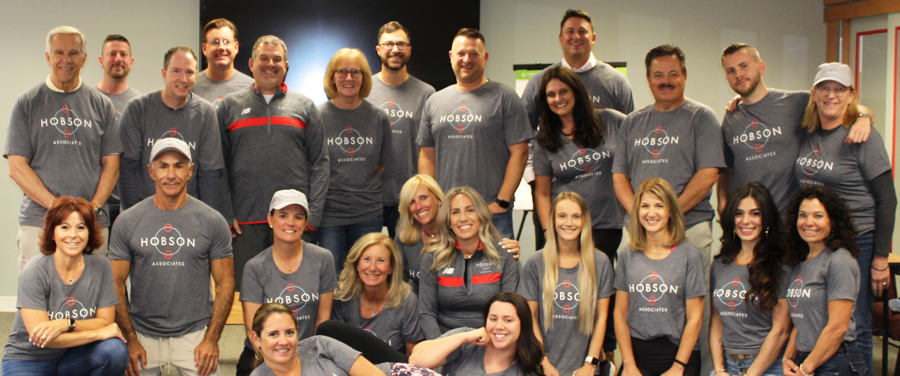 On September 30, 2021, Hobson Recruiters, Leadership, and Support Staff gathered at our Cheshire, CT headquarters to celebrate the end of an epically successful fiscal year and to set the stage for an even grander 2022.
After a record-setting year- killing their overall company sales goal (amid a pandemic!), growing the team of recruiters, and setting eyes on establishing new practice niches – the Hobson recruiters are excited and energized about what is to come.
The "kick-off" celebrations began with a company-wide meeting held at Hobson headquarters to review the company's fiscal year 2021 accomplishments and establish a clear, shared focus on 2022 goals. The Hobson leadership team, Danny Cahill and Lisa Iannone, shared their perspectives on the importance of what our recruiters do every day, how we can learn every day, and the characteristics and values that will continue to make the team successful.
Following the meeting, everyone traveled to Newport RI to participate in a team-building scavenger hunt around the seaside city. A fun happy hour and group dinner at 22 Bowens followed.
Congratulations to the following Hobson team members:
Staffing Services Senior Associate Jennifer Millea was recognized as "

Associate of the Year

" for making Hobson history- producing the largest amount of client billings in a fiscal year (

over $1.3 million

). Her consistent success and client billings year over year, as well as her work with making Hobson Associates a better company to work for– by being a key member of the company's "Culture Club", earned Jennifer a promotion to Equity Partner.

Senior Partner Beth Schneider was honored for marking her 30th year at Hobson and her numerous accomplishments over the years.

For Senior Partner

Jeff Vernick, 2021 was also a record year for client billings (over $1 million), crushing his yearly goal and being named

Associate of Q4.

Jeff was also the

Associate of the Month, August 2021,

and had the

Most Billings for New Clients in 2021

.

Jeff was also this year's recipient of "

The Jackie".

This award is given annually to the staff member who most embodies the ideals of Hobson Associates.

Senior Partner

Larry Botelle

was also another member of the Hobson "million-dollar club". He produced over $1 million this fiscal year (his second year) and was recognized for being over his billing goal.

Life Sciences Senior Associate,

Joe Abate, MD,

was recognized as

Associate of the Month

for September 2021,

and Staffing Services newly minted Partner Jennifer Millea, was

Associate of the Month for July 2021.

Joe Abate was also recognized for the highest New Client Billings for Q4 and having the

Highest Average Client Fees.
The following other Recruiters were also promoted:
The following recruiters were recognized for closing over their annual goals:
We're ready for another successful year in 2022. Our mantra being:
"SET GOALS. CRUSH GOALS. REPEAT."
TELL US ABOUT THE TALENT YOU'RE LOOKING FOR