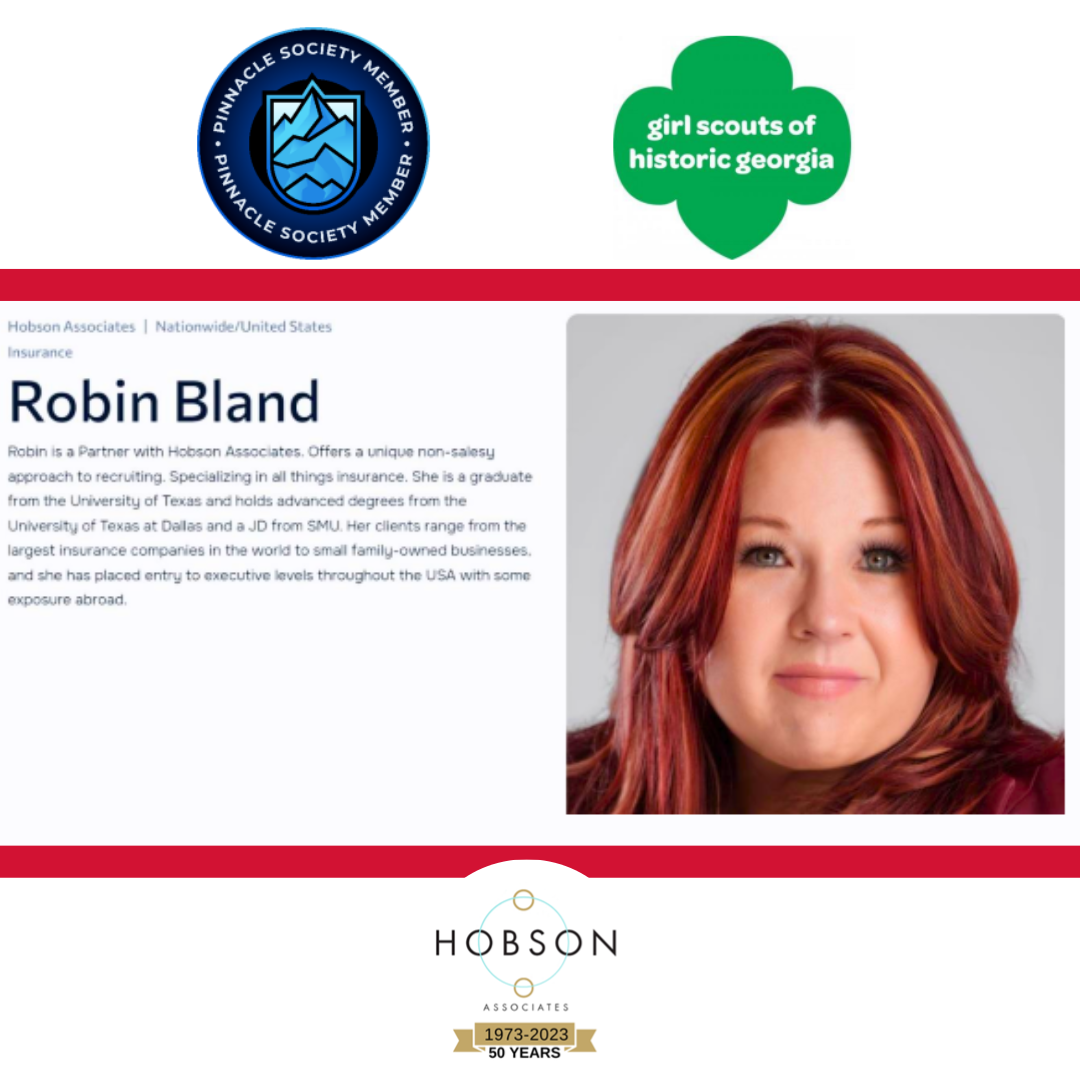 𝙆𝙪𝙙𝙤𝙨 𝙩𝙤 𝙤𝙪𝙧 𝙫𝙚𝙧𝙮 𝙤𝙬𝙣 Robin Bland, 𝙖𝙣 𝙚𝙨𝙩𝙚𝙚𝙢𝙚𝙙 𝙢𝙚𝙢𝙗𝙚𝙧 𝙤𝙛 𝙩𝙝𝙚 The Pinnacle Society, 𝙬𝙝𝙤 𝙬𝙞𝙡𝙡 𝙗𝙚 𝙛𝙚𝙖𝙩𝙪𝙧𝙚𝙙 𝙖𝙨 𝙖 𝙨𝙥𝙚𝙖𝙠𝙚𝙧 𝙖𝙩 𝙩𝙝𝙞𝙨 𝙮𝙚𝙖𝙧'𝙨 𝙂𝙞𝙧𝙡 𝙎𝙘𝙤𝙪𝙩𝙨 𝙤𝙛 𝙃𝙞𝙨𝙩𝙤𝙧𝙞𝙘 𝙂𝙚𝙤𝙧𝙜𝙞𝙖 𝙩𝙝𝙞𝙨 𝙎𝙖𝙩𝙪𝙧𝙙𝙖𝙮, 𝟭𝟬/𝟭𝟰 𝙖𝙩 𝘾𝙖𝙢𝙥 𝙇𝙤𝙬 𝙞𝙣 𝙎𝙖𝙫𝙖𝙣𝙣𝙖𝙝, 𝙂𝘼!

The Pinnacle Society will lead an interactive session on our internal "superhero" skills and how they can translate to our careers. Pinnacle members are some of the world's leading recruiters with skills in various industries and they are experts in discussing jobs and careers. The members often do public speaking and public outreach events for non-profits when they travel to various cities for their conferences.
Learn more at: pinnaclesociety.org
ABOUT HOBSON ASSOCIATES
Hobson Associates is a nationwide Executive Recruiting firm specializing in Technology, Life Sciences, Industrial and Manufacturing, Sustainability, Healthcare, Insurance, and Staffing Services.
50 years of experience, making us one of the oldest, and largest, privately held search firms in the country.

Exceptional veteran recruiters who average over 16 years of recruiting experience—and who represent the highest concentration of Pinnacle Society members, the society of top-producing recruiters.

In-depth industry expertise so you don't have to waste time getting us up to speed on your business and its challenges and opportunities.

A focus on "delivering" rather than "placing" the candidate, which ensures that more of your offers are accepted and your transitions are painless.

A unique partnership model for our recruiters that further motivates their commitment to your success.
After decades of experience and thousands of successfully completed searches, we know how to find and secure talent and help you achieve superior results — quickly.
We're not just any Executive Search firm, we're 'THE EXECUTIVE "FOUND" FIRM'.