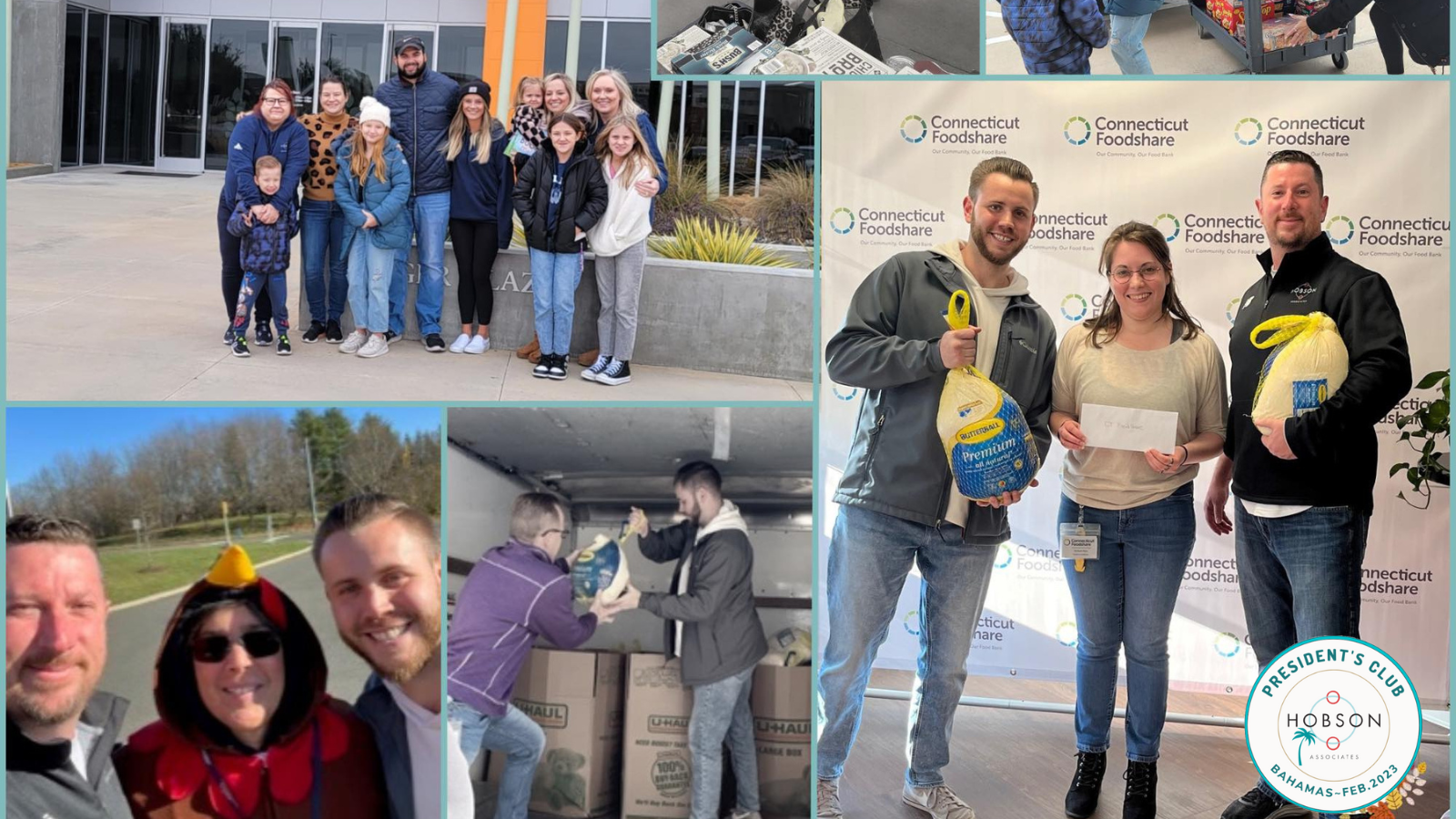 𝐀 𝐡𝐮𝐠𝐞 𝐬𝐡𝐨𝐮𝐭𝐨𝐮𝐭 𝐭𝐨 𝐨𝐮𝐫 𝐂𝐎𝐍𝐍𝐄𝐂𝐓𝐈𝐂𝐔𝐓 𝐚𝐧𝐝 𝐃𝐀𝐋𝐋𝐀𝐒 𝐭𝐞𝐚𝐦𝐬 𝐟𝐨𝐫 𝐡𝐞𝐥𝐩𝐢𝐧𝐠 𝐭𝐨 𝐠𝐢𝐯𝐞 𝐛𝐚𝐜𝐤 𝐚𝐭
𝐓𝐡𝐚𝐧𝐤𝐬𝐠𝐢𝐯𝐢𝐧𝐠
𝐭𝐢𝐦𝐞.
ℍ𝕖𝕣𝕖'𝕤 𝕨𝕙𝕒𝕥 𝕨𝕖𝕟𝕥 𝕕𝕠𝕨𝕟:
Our
Technology
Sr. Partner 𝐋𝐀𝐑𝐑𝐘 𝐁𝐎𝐓𝐄𝐋𝐋𝐄 led his annual Thanksgiving food drive benefitting the
Connecticut Foodshare
. Larry was honored to present them with several turkeys and hams, lots of non-perishable food items, PLUS a cash donation!
Our
Insurance
Partner/Practice Manager 𝐑𝐎𝐁𝐈𝐍 𝐁𝐋𝐀𝐍𝐃 led our Texas team in collecting and delivering almost 450 lbs. of food to the
North Texas Food Bank
to feed 375 families!
Thank you to everyone who donated!
ABOUT HOBSON ASSOCIATES
Hobson Associates is a nationwide Executive Recruiting firm specializing in Technology, Life Sciences, Industrial and Manufacturing, Sustainability, Healthcare, Insurance, and Staffing Services.
50 years of experience, making us one of the oldest, and largest, privately held search firms in the country.

Exceptional veteran recruiters who average over 16 years of recruiting experience—and who represent the highest concentration of Pinnacle Society members, the society of top-producing recruiters.

In-depth industry expertise so you don't have to waste time getting us up to speed on your business and its challenges and opportunities.

A focus on "delivering" rather than "placing" the candidate, which ensures that more of your offers are accepted and your transitions are painless.

A unique partnership model for our recruiters that further motivates their commitment to your success.
After decades of experience and thousands of successfully completed searches, we know how to find and secure talent and help you achieve superior results — quickly.
We're not just any Executive Search firm, we're 'THE EXECUTIVE "FOUND" FIRM'.