Client Storyboard
Below are just a few examples of how we've helped our clients find and secure top talent — quickly.
(All product names, logos, and brands are property of their respective owners. Use does not imply endorsement.)

Program Manager / Business Intelligence
Nano Dimension is a publicly traded provider of intelligent machines for the fabrication of Additively Manufactured Electronics (AME). High-fidelity active electronic and electromechanical subassemblies are integral enablers of autonomous intelligent drones, cars, satellites, smartphones, and in vivo medical devices.
OUR CLIENT'S NEED: As a new startup company with a revolutionary product, they were on a mission to hire the best talent for their organization. To achieve their business goals, they needed to fill roles from the ground up, from support staff to all levels of management - in a very short amount of time.
THEIR SEARCH CHALLENGES: As a new startup company in the States looking for exceptional talent in a very candidate-driven market with Covid lurking in the background- made this a very difficult search.
OUR TALENT DELIVERY SOLUTION: Our Sr. Associate Diana Saucier, a pro in the space, started networking right away to find talent. Relocation benefits were being offered, which made it a plus in the efforts made. Diana quickly connected with a 'rock star' candidate on the 13th of the month, and they were extended an offer by the 27th. Our client was very serious about the hire and made a great offer- making it easy for the candidate to say YES. "Working with a client like Nano Dimension makes my job so pleasant- they know what they want and are serious about finding great talent. They are the best!", commented Diana.

Plant Manager
KX Technologies is a global innovator of filtration systems. They operate one of the world's largest solid-state extrusion facilities for the production of activated carbon filters.
OUR CLIENT'S NEED: Their Global VP of Operations had a constant jam-packed travel schedule and needed someone who could physically be at the plant while they traveled for business.
THEIR SEARCH CHALLENGES: Finding just the right candidate who was within their budget, had the right experience in manufacturing and was "hands-on". This candidate needed to be a coach/player and very knowledgeable with the production lines.
OUR TALENT DELIVERY SOLUTION: Our Senior Associate Recruiter started this search and shortly presented five candidates to the client- and a job offer was made and accepted by two months later. This individual they chose was bi-lingual, very talented and well-educated, with a BS from Tufts University and a Black Belt ASQ certification. Both the client and our team felt that the right candidate- who possessed a rare combination of humility, work ethic and dedication- was awarded the position.

Sr. Account Executive and Sales Representatives
Humio is a time-series logging and aggregation platform for unrestricted, comprehensive event analysis, On-Premises or in the Cloud.
OUR CLIENT'S NEED: This rising star in the security startup world was looking to expand in the US quickly, by hiring a Senior Account Executive as well as two Inside Sales Representatives on opposite ends of the country.
THEIR SEARCH CHALLENGES: Our client is still fairly new to the US. Also, their overseas leadership team was scheduled to come in on a certain date to interview all the candidates.
OUR TALENT DELIVERY SOLUTION: We had to quickly stand up all 3 projects, outline the target candidates, educate them about our client, and come up with the right talented individuals who were open to exploring the opportunities. We were able to meet the deadlines of getting the right candidates to the table for leadership to meet with, and close their first choices on all three positions. All completed in under four weeks from beginning the search.

Executive Vice-President of Sales
Tylie is a premier woman-owned provider of advertising delivery solutions
OUR CLIENT'S NEED: A sales leader from the same space (Broadcast & Digital Spot Delivery) to not only grow revenue, but also take on Marketing responsibilities for the company.
THEIR SEARCH CHALLENGES: Filling this role seemed like a daunting task for our client. They had never had an EVP of Sales, not to mention that they are in a very niched business that most would either not understand or value. .
OUR TALENT DELIVERY SOLUTION: Tylie's Sales Training company, The Bridge Group, recommended a few search firms. Beth Schneider and Hobson Associates were on the top of the list. Tylie engaged Beth via a retained search and by the end of the same month (May 2018), Beth had produced 8 qualified candidates for review. By mid-June they interviewed 5 out of the 8 and extended an official offer by the end of July. In August, Tylie began on-boarding their new EVP of Sales!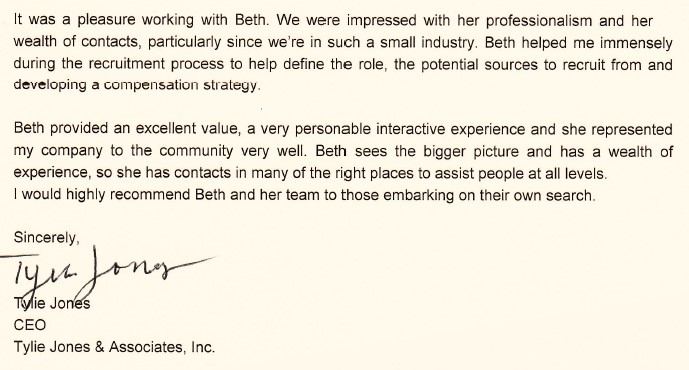 West Coast Account Director
Softbox Systems is an award-winning temperature control packaging company that has been designing and producing high performance Cold Chain packaging for over 20 years.
OUR CLIENT'S NEED: After several years, their Sales Director decided to move on, so they needed to fill the now-vacant role with an experienced hunter from the temperature-controlled packaging industry.
THEIR SEARCH CHALLENGES:The new West Coast Account Director needed to have the right mix of knowledge, contacts, drive, and be local to the San Francisco area- PLUS fit into a particular compensation range.
OUR TALENT DELIVERY SOLUTION: In just under three weeks, as a result of recruiting cold call, we delivered to Softbox Systems the "total package": a stellar leader and hunter with experience in the space.

Regional Sales Director
Datical develops and provides agile database automation solutions.
OUR CLIENT'S NEED: Datical was looking to expand out west by hiring their first "boots on the ground" Senior Sales Executive to be a face for the company and build on what they have already started.
THEIR SEARCH CHALLENGES: This organization is in a very hot and competitive field in technology where there are not many "A" players looking to move. On top of this, the company takes a lot of pride in evaluating the cultural fit and looking at things outside of resumes.
OUR TALENT DELIVERY SOLUTION: We strategically mapped out the right talent on paper, and then proceeded to reach out to every candidate we identified. Within fourteen days we had identified seven candidates that we thought could be a fit and were realistically recruitable. Not long after, they closed on their first choice and a hire was made!

VP of Marketing Communications
Checkmarx is an Application Security software company whose mission is to provide enterprise organizations with application security testing products and services.
OUR CLIENT'S NEED: A senior marketing leader with expertise around marketing communications, building teams from scratch, implementing marketing strategies to increase leads and attention in the market.
THEIR SEARCH CHALLENGES: Checkmarx already had a good pipeline of candidates for this position. However, our Recruiter connected with a great candidate during a search for a different VP level role. After speaking with the candidate, they both agreed that this person would be a better fit for a communications marketing role rather than demand generation. We opportunistically sent in their resume to Checkmarx, and this candidate rose to the top of the list and was quickly hired.
OUR TALENT DELIVERY SOLUTION: Knowing what our clients' needs and likes are in candidates is very important. That way, when we come across an outstanding candidate, even if there is no job spec/or open job req, we can still put talent in front of them. "I try to really become a partner to my clients," our recruiter remarked "and working together to build them the best team possible."

Director of Marketing
Vistaar is a leading SaaS provider that enables companies to optimize pricing, promotion, configuration, and rebate management.
OUR CLIENT'S NEED: Someone to really take over the content piece of marketing and help them with their overall marketing needs. The company had really progressed and grown from a niche standpoint, with lots of success and new product releases-yet their marketing was still behind the curve.
THEIR SEARCH CHALLENGES: The self-funded startup organization did not have a huge amount of resources to pay a VP of Marketing. They also wanted a marketing professional out of their direct space, who lived within a couple of hours from their corporate office.
OUR TALENT DELIVERY SOLUTION: This search took a couple of rounds to get just right… We initially went after industry people and were able to connect with several candidates for interviews. One candidate we found even made it to the final interview stage-but was just not the right fit. The client decided to lower the compensation and look for someone at the associate marketing level. We came up with three brand new candidates, one of which ended up being the perfect match: had a passion for their niche, (even though not directly in Vistaar's space), expertise in marketing communications, software experience, and was the perfect cultural match for the company.
Not every search is easy, so it was important to stay with our client through the ups and downs and changes of the search. As challenging as it was, we were still able to fill in under sixty days total.

Customer Success Manager
Graylog is a fully integrated platform for collecting, indexing, and analyzing log messages. They enable organizations to improve IT operations efficiently, security, and reduce the cost of IT.
OUR CLIENT'S NEED: This position was Graylog's first of its kind. They created the role in order to have someone come in and reshape the customer experience, from on-boarding to helping expand the business.
THEIR SEARCH CHALLENGES: They needed to hire someone who lived local to their headquarters; someone who had the specific experience the role required; as well as having specific domain expertise in a specific area of security.
OUR TALENT DELIVERY SOLUTION: Within two weeks, our recruiting plan netted ten viable candidates that touched on each position requirement. After due process, we were able to identify and secure the best candidate for the position. Our job was completed- from beginning, to the candidate starting- in a total four weeks' time.

Quality Manager
Prototype & Plastic Mold Company is a

single source, providing injection molded based products, assemblies and parts.
OUR CLIENT'S NEED: The President and CEO was aiming to fulfill his succession plan, as the current Quality Manager was retiring. They also wanted to put into place their AS9100 implementation plan ASAP.
THEIR SEARCH CHALLENGES: A tight job market and the need for a talent that could implement AS/ISO, along with being hands-on with the production floor Staff and Engineers
OUR TALENT DELIVERY SOLUTION: We found a person who wanted to find a job close to home and use her skills in QA/QC implementation to take a company to the next level. A hire was made in two weeks.

Maintenance Manager
Gilman Brothers is one of North America's premier manufacturer of foamboard products and has been instrumental for developing and bringing to market innovative products for all direct printing applications.
OUR CLIENT'S NEED: The initial need was for a supervisor, however after several months of searching, the company decided they needed an experienced and talented manager for the role. Someone who could manage employees and had a background in highly technical extrusion equipment.
THEIR SEARCH CHALLENGES: In this job market, it was not easy to find the exact fit- a leader with experience in extrusion maintenance, and someone who was of great presence and mind to get the job done.
OUR TALENT DELIVERY SOLUTION: Once we knew exactly what the organization wanted in a Maintenance Manager, it was a no-brainer on the talent presented. It was quick and swift search, and the finalist was hired within two weeks!

Network Manager
eSentire is the largest pure-play Managed Detection and Response (MDR) service provider, keeping organizations safe from constantly evolving cyber-attacks.
OUR CLIENT'S NEED: To hire someone to come in and take charge of many of the internal/external networking infrastructure and co-locations, as well as manage a small team.
THEIR SEARCH CHALLENGES:They had surfaced a number of candidates on their own from their network. However, none of the candidates met most of their requirements or the company wasn't the ideal fit for the candidate. An additional challenge was that the position is located in an area of Canada that does not have access to a large pool of technology candidates.
OUR TALENT DELIVERY SOLUTION: We did it the old-fashioned way. After a surge of cold-calling and networking into prospects and companies that we knew would have employed a similar type candidate, we were able to very quickly come up with seven candidates that fit the bill. After a series of interviews, were able to close and hire our client's #1 choice

Solutions Consultant
EclecticIQ
is a leader in collaborative Threat Intelligence Management.
OUR CLIENT'S NEED: A technical lead in the US with experience doing pre-sales, post-sales, and technical account management.
THEIR SEARCH CHALLENGES:The right person needed to have the skills and experience to perform, all the while being open to doing three roles in one.
OUR TALENT DELIVERY SOLUTION: We love the more difficult searches, so once when we were presented with this challenge, we gladly took it and ran with it…
We went to the market incredibly prepared with the clients' story, first reaching out to our internal network.
We then reached out to the market place and got creative and open minded with titles we targeted and called on.
We found the perfect person who quickly interviewed with the client. The process took two weeks-- from our initial presentation to the hiring manager, to the day the offer was signed and accepted. Both candidate and client were very happy in the end, which is something we love to see, especially with the more challenging searches.

Scientific Program Manager
Taconic Biosciences has been a leading provider of research models for over 60 years.
OUR CLIENT'S NEED: Due to an internal promotion, Taconic had an opening for a Scientific Program Manager who would manage the relationship between the customer and Taconic's contract breeding solutions.
THEIR SEARCH CHALLENGES: This was an office based position and we needed to find someone either local to Rensselaer, NY, or willing to relocate there. Someone with a PhD (or at least a Master's) who had breeding experience and could work under pressure in a fast-paced, high volume environment. This person also needed to be comfortable in a customer-facing role and be able to leave their research work behind, which is not something all scientists wish to do.
OUR TALENT DELIVERY SOLUTION: Because we had already filled two very similar positions for this client within the last 12 months, we were ready to get going on this search immediately. We called all of the candidates that we sourced the first time around and were given several referrals along the way. We also published the job to various online networks (websites, job boards, social media). The placed candidate ended up being someone who we had identified in late 2016- but had never spoken with before. Although several candidates were phone interviewed, the hire candidate was the first person we submitted to the client, and the only one brought in for a face-to-face interview. From job order to close, this was a 6 week process. ( the new hire ended up relocating to Rensselaer, NY from Salt Lake City! )

Regional Sales Manager
Deep Instinct is a next-gen machine learning security company that is revolutionizing cybersecurity.
OUR CLIENT'S NEED: To scale a field sales team after receiving a B round of funding. To find candidates built for a start-up and know the space..
THEIR SEARCH CHALLENGES: The company needed "A" players that came directly from the endpoint security space. These candidates needed to already have client and partner contacts in order to make an immediate impact.
OUR TALENT DELIVERY SOLUTION: We filled two positions with top producers directly from the endpoint security space. Both had stellar quota performance records and had worked at not just one but multiple start -ups.

CMM Programmer
Integral Industries is a Connecticut-based aerospace manufacturer that has a solid 50+ year reputation within the industry.
OUR CLIENT'S NEED: A top level CMM Programmer within a particular budget and location, who could begin immediately.
THEIR SEARCH CHALLENGES: Initially there wasn't room in their budget to pay what the market required for the role. However, our Contract Staffing Recruiter educated the hiring manager on what it would take to get the right type of person -- they understood and agreed that if presented with the right profile, a consideration would be made to make a hire.
OUR TALENT DELIVERY SOLUTION: We found a skilled candidate from a competitor who was unhappy and ready to make a move— within two days we presented this candidate to the hiring manager, and they asked to bring him in for an interview. A job offer was lined up and closed within one week's time.
Private Growth Stage Security Company
Inside Account Executive
OUR CLIENT'S NEED: To maintain their 50%+ percent growth, the company is scaling sales. Mid-enterprise accounts will be broken out and handled by a newly created Inside Sales Team running full cycle sales deals.These are pure growth positions, so there is no script to read from. Since the company is under 300 total employees, this needed to be an immediate impact hire that could be successful without a lot of ramp up and resources.
THEIR SEARCH CHALLENGES: The ideal candidate needed to walk through the door with software sales domain and a track record of hunting and closing deals. Location was supper important and finding a candidate that will be in the office 5 days a week was also a must. Finding a self-motivated sales pro who could keep up with the fast paced environment was key. "Nice-to-haves" included a candidate who could be promoted to the next level position, and play a bigger role within the company over time.
HOBSON'S TALENT DELIVERY SOLUTION: We found an "A" player that lives 20 minutes from our client's office. He had a track record of 5+ years of full cycle inside sales experience. Not only had he produced over quota consistently, but he had also managed and mentored in the past--making him valuable beyond the job description. The candidate had recently grown his family and moved into a new home. Life is all about timing, and we caught this candidate at exactly the right stage. NOTE: The candidate's location at the time of recruitment would have out him outside the commuting distance. Because of our knowledge of his personal situation, we knew his NEW home would put him WITHIN commuting distance. #professionallyrecruitedcandidates #wemighthavemissedthatone

Senior Director Business Development
Cryoport is the premier provider of cold chain logistics solutions for biopharmaceutical, IVF and animal health organizations around the world.
OUR CLIENT'S NEED: To hire a high level professional to penetrate the Bio Pharma Commercialization space.
THEIR SEARCH CHALLENGES: Three Locations. Finding the right person with a solid track record closing and managing deals in excess of $25 to $50MM. Having contacts and solid closing skills at the C-level suite
HOBSON'S TALENT DELIVERY SOLUTION: Our team recruited solid A Players who were both managing high level solution sales in the CRO- CMO suite. Solid & consistent track records looking to have share stake & collaborate as team of three to capture the market niche in USA & Asia/ Pacific. Hobson networked 360 selectively contacts and candidates looking for that last and final push to put their names on multimillion dollar deals throughout the globe leveraging their contacts & knowledge to space.

VP, Partnerships
UserTesting helps companies eliminate bad user experiences on websites and apps, and in the real world. They make it easy for customers to get on-demand feedback from their target markets-wherever they are- so companies can protect their brands, boost conversions, and provide amazing experiences.
OUR CLIENT'S NEED: Someone out of corporate (Bay Area) to run Strategic Partners globally that included Agency, Strategy consulting, and Research partnerships.
THEIR SEARCH CHALLENGES: The job was very specific to the niche, so they were searching for someone very unique, and therefore limited the companies and locations we could recruit out of. They also wanted the person ASAP.
HOBSON'S TALENT DELIVERY SOLUTION: We put together a plan to go after anyone in the space who lived close to where they are located. Using our network in the space, we reached out to individuals in our network who could point us in the right direction. We only needed to identify 3 candidates, as they were all 100% matches on paper—(one was such a great fit that they considered hiring him as a remote employee). They did end up hiring a local candidate.
UserTesting is great company that shows really well to candidates looking at them for potential opportunities. They have been a company of choice to many of our executive candidates in competitive situations. Having the right company as a partner goes a long way for taking a search to offer- signed in under 60 days!

CNC Programmer
Coronet Machinery is one of the industry's leading precision manufacturing companies, consistently delivering the highest level of experience, quality, and service to their clients for more than 37 years.
OUR CLIENT'S NEED: A CNC Programmer with the ability to be the right-hand person to the VP of operations. This is a smaller operation, so the incoming new hire would have much more responsibility besides programming.
THEIR SEARCH CHALLENGES: The person for this role would be groomed for bigger and better things, so the right skillset and personality had to be spot on.
HOBSON'S TALENT DELIVERY SOLUTION: Our client met with five candidates before choosing our final hire. After a couple weeks on the hunt, negotiations started and we closed the deal within 48 hours, and the new hire started the job three days later.

Senior Director of Marketing
CounterTack empowers security teams to assure endpoint detection and response by granting visibility in Malware Detection and fixing the Malware Threats.
OUR CLIENT'S NEED: To hire an experienced Marketing Director who could implement repeatable processes that generate positive quantifiable results. Creating consistent messaging, improving lead generation, with a focus on tracking ROI, were the qualities this company's C-suite was looking. Once we embarked on this search, our team spoke with several leaders, including the CEO, CTO, and Chief Product Officer, to ensure we were on the same page with them as far as the needs for the role.
THEIR SEARCH CHALLENGES: They had to have previous endpoint security experience and be able to commute to their Waltham office.
HOBSON'S TALENT DELIVERY SOLUTION: We reached out to our direct network first, as we always do, to find top talent we had worked with in the past - and see if there was any interest level. Our Senior Partner, Jeff Vernick, had previously worked with the individual we placed, and knew he had a great track record and could do the job. He certainly did,- and made it easy for us to show the hiring manager his capabilities and why they should hire him.

Senior Sales Engineer
Nehemiah delivers critical cybersecurity services to enterprise and government clients around the world.
OUR CLIENT'S NEED: A Senior Sales Engineer with not only a background around Risk and Endpoint Security, but also with a high degree of business knowledge.
THEIR SEARCH CHALLENGES: Finding the right technical fit, cultural fit, and was able to pass their aptitude test….all in the same candidate.
HOBSON'S TALENT DELIVERY SOLUTION: This search required a lot of upfront work/qualifying with the candidates we called on, in order to make sure that they were a good technical/cultural fit, but also understood the interview process in terms of what to expect and how to prepare. By the third week we had identified the top candidate and were able to navigate them through the process to ensure it was a great fit for both parties.

Head of Marketing
Folloze is a leading Enterprise Account Based Marketing and Sales Platform. They power Sales to use tailored Marketing strategies, accelerating revenue growth through increased customer engagement, at scale.
OUR CLIENT'S NEED: Someone to run marketing who knew the fast growing world of ABM (Account Based Marketing) or had worked in the Marketing Technology space, and was a culture fit.
THEIR SEARCH CHALLENGES: At first they were looking for a director level candidate and due to budget constraints, could only pay less than market value for the role. This would be US employee #18 for this startup.
HOBSON'S TALENT DELIVERY SOLUTION:
Since this role really had to be a cultural hire, we tried to recruit out of companies that were in their world and had similar technologies.
We sent our client some candidates who were overqualified, and some that were a bit light, just to give them an overview of talent.
6 candidates were presented. All 6 were interviewed.
After seeing some of the talent out in the market, Folloze ended up paying more than they had budgeted, and changed the title from 'Director of Marketing' to 'Head of Marketing'.
The candidate they hired was a natural fit and really hit it off with the founders and leadership, and ended up being a really unique fit for both company and candidate.
The entire search took about 6 weeks to complete and the candidate signed the offer letter less than 3 weeks after Hobson presented her.

Quality Director
Utitec is a privately owned world leader in the design and manufacture of medical device components.
OUR CLIENT'S NEED: The operations manager of this small CT medical metal stamping organization reached out to us looking for assistance with finding a high-level Quality Director. Their current director was moving out of state and the clock was ticking…They had only three weeks to find a top-notch replacement.
THEIR SEARCH CHALLENGES: They did not want to hire just anyone--this person needed to know how to downsize over 200 SOPs, integrate a homegrown ERP system into a suitable intuitive system, as theirs was cumbersome and extremely difficult to use for the layperson. They also had to be well versed in ISO 14001, 13485, AS9001 and TS16949.
HOBSON'S TALENT DELIVERY SOLUTION: Our recruiter had some excellent talent on stand-by, as she had been sourcing Quality Directors for two other organizations ... Three top level candidates with excellent pedigrees were presented, and after a two-interview process, one of them was offered the job.
A few reasons why they hired Art:
He is a driven professional with high standards for himself and the companies he works for.
His track record was impeccable.
Six sigma black belt.
Certified Auditor.
Had glowing references and recommendations.
We guess the 'third time's the charm!'... We have worked with this candidate on two other opportunities, and finally found him the right company where he belongs.

Southeast US Sales Director
Cryoport is the premier provider of cold chain logistics solutions for biopharmaceutical, IVF and animal health organizations around the world.
OUR CLIENT'S NEED: With an expanding sales team, they set their sights on bringing in a higher level of talent… a strategist with C-level contacts and a record of successfully managing multimillion dollar deals on the commercialization level.
THEIR SEARCH CHALLENGES: They are what you would consider a 'big fish in a very specialized pond', as they are doing some very unique and exciting things in the industry- with a growing oncology, regenerative medicine, immune-therapy focus. Another limit of theirs was budgetary-based.
HOBSON'S TALENT DELIVERY SOLUTION: Through our contacts and relationship-based network, Hobson was able to produce a senior candidate in under 5 weeks-- a sales exec who had driven deals in excess of $100MM per year, was highly regarded in the industry at JP Morgan DIA and BIO, and had strong connections in Pharma, Biotech, & clinical technologies.
A 'great catch' indeed'!

Chief Commercial Officer.
Quotient Clinical is a well-established drug development company focused on delivering truly innovative solutions to help their clients improve their R&D productivity.
OUR CLIENT'S NEED: To find and secure an Executive Team member responsible for Global Commercial Operations including Sales, Business, Development, Marketing and Client Services.
THEIR SEARCH CHALLENGES: To ensure a fully confidential search in the market without disrupting the business.
HOBSON'S TALENT DELIVERY SOLUTION: We partnered with Quotient on a retained basis, given the strategic importance, urgency and confidentiality of the role.
100s of names and profiles were identified and sourced.
30+ high-level executives were screened, each with their own detailed candidate profile.
Non-disclosure agreements (NDA) were signed to ensure confidentiality.
7 candidates were presented to our client.
6 received face-to-face interviews.
2 advanced to final interview.
1 exceptional hire was made.
Read Quotient Clinical's official press release here.

Sales Engineer, Mid-Atlantic
For more than 25 years, Carousel Industries has been helping IT and business leaders bring more confidence and clarity to their IT decisions.
OUR CLIENT'S NEED: There was no job opening for this specific position. We opportunistically presented our candidate, because we recognized how talented they were, and how exactly they fit what our client wanted in a Sales Engineer.
THEIR SEARCH CHALLENGES: Their SEs required a very specific type of technical talent, as well as someone who was very experienced in working with Cisco as a partner.
HOBSON'S TALENT DELIVERY SOLUTION: Our senior recruiter and partner, Larry Botelle, spoke with the candidate and discovered that he was recently was laid off from a major competitor to Carousel, due to downsizing. He was their #1 Sales Engineer in the Northeast, and had a rare blend of salesmanship and understanding of complex technology solutions and how to implement those solutions for his clients. After presenting the candidate, Carousel decided to schedule an interview and a great, unplanned hire was made!

Quality Engineer
Solutions With Innovation

is a leading U.S. manufacturer of custom industrial sensors, automation controls, magnetic metal alloy floats and supplies in-house welding services.
OUR CLIENT'S NEED: They are growing a new CT division from their parent company in Illinois. Among several imperative roles to build the team, the QE role was a key hire in implementing ISO and AS standards to get the division certified by December 2017 and up and running at full capacity for 2018.
THEIR SEARCH CHALLENGES: To find a qualified QE that brought not only hard skills to use on the production floor but documentation and administrative understandings on how to get a company AS and ISO certified in a very short period of time.
HOBSON'S TALENT DELIVERY SOLUTION: We were working with a candidate who was not a 100% match for one of our other clients, but proved to be a perfect fit for Solutions With Innovation, and was made a direct hire offer within hours of her interview.

Account Manager, Account Executives, Sales Executives, Solutions Consultants: Boston & West Coast US.
Mavenlink is a SaaS company that provides software and services for advanced project management, task collaboration, resource allocation, work management and professional services automation.
OUR CLIENT'S NEED: Based in California, they were looking to grow their East Coast presence.
THEIR SEARCH CHALLENGES: They needed to find a large number of quality candidates- QUICKLY.
HOBSON'S TALENT DELIVERY SOLUTION: Our Senior Partner Beth Schneider was at the helm of this project and along with two other Hobson technology recruiters, spent two days in Boston in a rented co-working space to conduct onsite interviews. Our team was able to source twenty-four viable candidates and quickly set up interviews with three of Mavenlink's hiring executives. In a short eight week time span, from start to end, Mavelink was able to make eight new hires- more than doubling their Boston sales team in size!

Sales Engineer
"Storytelling" our way to finding top talent for a growing cyber security startup...
OUR CLIENT'S NEED: A Sales Engineer with a strong security focus, with hands-on experience doing penetration testing.
THEIR SEARCH CHALLENGES: This Israeli cyber security startup is still fairly new in the United States- but they plan to change that soon. Being a younger company with limited resources, they needed to put in place a strategic and targeted hiring plan. That is where a good technology recruiting partner comes in…
HOBSON'S TALENT DELIVERY SOLUTION: Our approach was to separate our client from their competitors and other opportunities. We took extra time to educate our targeted candidate pool on the Cymmetria story- giving them a well-rounded background on the company, product, and their position in the market. In less than two weeks, our recruiters built up a short list of targeted candidates. On that list was the individual who won the job, choosing Cymmetria over another offer.

CMM Quality Inspector
Supplying niched talent for a worldwide

turbine component overhaul and repair manufacturer

...
OUR CLIENT'S NEED: This industry leader in aerospace overhaul and repair was in desperate need for a CMM Quality Inspector—as the market is currently extremely tight for this skillset. The candidate had to come from Aerospace and have the specific software knowledge to add to a growing team.
THEIR SEARCH CHALLENGES: Finding a qualified professional for this aerospace supplier with extremely niched manufacturing processes - with the right background, location, and will to make a move.
HOBSON'S TALENT DELIVERY SOLUTION: The timing was perfect, as we happened to be working with a young man who was recently available—we set up an interview with our client in 24 hours and got an offer and filled the position within 48 hours!

Scientific Program Manager
Bringing "Business Critical" solutions to a leading service provider to the international biomedical research community.
OUR CLIENT'S NEED: This position had been open for over a year before they contacted us-and it had become a "business critical" need...Our Life Sciences Recruiter/Partner felt the hiring manager's pain through their words, and was determined to fill this role.
THEIR SEARCH CHALLENGES: They needed someone who could be customer facing and was a subject matter expert in the field of "in vivo model generation", traveling 50-60% travel both domestically and internationally. They also needed to have experience developing these models, not just working with them. The additional challenge was the fact that there weren't many companies to recruit from, as most organizations (pharma & biotechs) outsource this type of need/work.
HOBSON'S TALENT DELIVERY SOLUTION: We were advised that our best bet would be to focus on academia, and more specifically-people who worked in "transgenic academic cores." So we gathered a list of universities that offered these types of programs and then put our true cold calling skills to the test. Our determination and training paid off, and we were able to find the right candidate for Taconic- sooner than later!

VP of Sales, East
Helping an LA-based Cloud & Enterprise company grow on the East Coast...
OUR CLIENT'S NEED: To find a Sales Leader to manage and build their entire East Coast team.
THEIR SEARCH CHALLENGES: The right hire for this leading provider of Cloud Security and Identity Governance solutions needed to come from a very specific area of security…And it was a bit of a "tweener" position- a much bigger role than someone looking to take a step into management could do, yet did not include responsibilities of the entire US, which some of the more experienced candidates already had…
OUR TALENT DELIVERY SOLUTION: We didn't just jump into the search. Instead, our recruiter strategically applied our sound recruiting process: The first two days of the search were spent mapping out the key candidates that would be the best fit for our client. The next two weeks were spent tracking down all of them. We then presented 7 qualified candidates that were open to being recruited from their existing jobs.
The candidate who ultimately won the job was presented to Saviynt in less than a week from the beginning of the search.

CNC Swiss Machinist
Helping a niched manufactured fill their very specific hiring needs...
OUR CLIENT'S NEED: The Swiss division of this contract manufacturer of machined components was growing, and they urgently needed a talented CNC Machinist. Someone with programming, set-up, and operation skills, who could hit the ground running.
THEIR SEARCH CHALLENGES: Their machining niche is a very specific one, and so was their hiring need - a top level Swiss machinist to help grow this division of their business. Swiss machine operators are not easy to come by, as only a few manufacturers focus on this type of machining.
HOBSON'S TALENT DELIVERY SOLUTION: Our Staffing Services team was able to find just the right candidate, closing the job in a few weeks' time. Best of all, he was right in our database-available and ready to go!

Operations Consultant Search
TOMZ is a New England parts manufacturer known for their exceptional story of quality and success...
OUR CLIENT'S NEED: To find a C-level professional to help grow their plastics division by $5-10 million dollars. Someone who was a culture fit, understood the space, and could start generating revenue quickly.
THEIR SEARCH CHALLENGES: It was, and continues to be, a tight market for top medical consultants who could make a major impact on the company and division. They did their best using internal resources, but needed to step up their search.
HOBSON'S TALENT DELIVERY SOLUTION: We identified a candidate who we worked with in the past-- a professional with a proven growth success track record. We presented him right away, and three weeks later he became their newest hire.

VP, Business Development Search
OUR CLIENT'S NEED: To find a Business Development leader that has managed Sales/BD professionals who were focused on selling to Biotechnology companies.
THEIR SEARCH CHALLENGES: Finding qualified candidates who would listen to their story.
OUR TALENT DELIVERY SOLUTION: We recruited candidates directly from one of their competitors- who were doing exactly the same thing and shared the company's successes and their atmosphere of a collectively encouraging culture. NOTE: This search began with a cold email to the CEO.

Insurance Strategy Executive Search
OUR CLIENT'S NEED: To find a well-connected insurance executive who could create strategies to accelerate the company's market presence in the environmental and pollution insurance sector. Due to increased market demand, they also needed this individual to have the skills to create internal best practices and procedures to better service their clients.
THEIR SEARCH CHALLENGES: Finding the right person who was open to making the leap from the traditional insurance world to an extremely specialized insurance space was no easy task. The executive needed to also have a strong reputation and be able to train other executives on insurance practices. Oh, and they needed to fit in with the company culture too.
OUR TALENT DELIVERY SOLUTION: The candidate we ended up placing at ECC Horizons happened to be sitting in our database as a referral – as the spouse of a previously placed candidate! ...
He was experienced in all aspects of Insurance sectors and had a solid reputation in the insurance community.
He had owned and run his own company.
Was a frequent speaker at insurance conferences.
Had experience deveoping best practices for Fortune 500 companies.
At first glance he didn't seem like the ideal fit; but we went ahead and presented him. He turned out to be just what they wanted – including a cultural and intellectual fit. They hired him one week later.

Human Resources Manager Search
OUR CLIENT'S NEED: The Controller at this century old Connecticut manufacturer of precision metal stampings was tapped out. After running into several hiring roadblocks, he was desperate to find an exemplary individual to fill the role of HR Manager. In the meantime, he continued to wear multiple hats- as Controller and HR leader… It was time for the madness to stop.
SEARCH CHALLENGES: They didn't want to settle for just anyone to fill this critical role in the organization. Being in business since 1912, Hobson & Motzer's business model has always been to exceed their customers' expectations with their "can do" attitude. This was an attribute they were seeking in their new HR Manager. The other challenge was that the candidate had to possess a documented and successful 5+ year track record within the manufacturing world, and an excellent educational background.
OUR TALENT DELIVERY SOLUTION: Since one of our specialties is finding talent in the Manufacturing space, as well as Human Resources, this was a challenge we knew we could handle. We immediately tapped into our network of local HR talent, and were able to present them 3 qualified candidates within the first 6 days… One of them was Alicia, their new Human Resources Manager.
A few reasons they hired Alicia:
She holds multiple degrees, including an M.S. in Human Resources Management and Organizational Effectiveness.
Her track record includes being a national trainer and workshop instructor at the university level.
She knows how manufacturing organizations operate- inside and out.
Her references were stellar.
She was available immediately to interview.

VP of Global Sales Search
OUR CLIENT'S NEED: Our CEO bootstrapped the company taking no venture capital and growing profitably. After building to over 1,000 clients including 20 of the F-50 and a global staff of over 150 employees it was time for the next phase of growth. The CEO was ready to hand off more responsibility than ever and have a new global VP take over the management of 3 GMs and the teams underneath them. This is the key Executive that would take the company the rest of the way.
SEARCH CHALLENGES: Without the deep pockets of venture funding to market their way forward and needing immediate results, the candidate had to know the cyber security and enterprise IT management market cold. The company prides itself on being selective, hiring only the top percentage of candidates and requiring a documented 5 years track record and video presentation pre-interview. This had to be a candidate that could travel the globe, so matching lifestyle was also important. Not difficult enough?... It also had to be a candidate who could commute to an East Coast office.
OUR TALENT DELIVERY SOLUTION: Since we know this market so well, we were able to quickly get the search out to the market. Laser focused, we presented 4 candidates. The candidate we placed was presented within an unbelievable 7 days. Here's why we loved the match and why our client agreed:
He is an absolute rock star ! He has beat his number every year, in every company with just a few exceptions. He has managed teams all over the world as large as 1,400 people and over 1 billion in revenue.
No ramp up. He is currently in the security industry with a rolodex of contacts and talent all over the world.
He brings the bonus of having been a CEO and managed operations, delivery and services.
He has grown and successfully sold two companies, acquired companies and positioned to be acquired.
For bonus points- He lives 20 min from their office!

Vice President of Sales, Americas Search
Leading solar company's search for Executive Talent needed some heating up!...
OUR CLIENT'S NEED…This company's modular TS4 platform allows their customers to maximize energy harvesting at minimal cost. With operations located across the globe, they needed a leader to take the their North & South American commercial team and sales to new levels!
SEARCH CHALLENGES…They knew on paper who they needed- an Executive that would help service and respond to the needs of their national accounts and distribution channel partners. BUT, their talent pool was turning out to be lukewarm, at best.
OUR TALENT DELIVERY SOLUTION… We partnered with Tigo to identify and deliver a talent who had a proven track record of leading sales teams in the energy space.. When we found Kevin, we knew he was our man. Tigo's technology has a bright future, and so does he... A West Point Graduate with an MBA from Duke, with an impressive sales leadership resume.
We are more than honored and thrilled to continue to support their leadership team as the company grows.
Click here to learn more.
---

Chief Financial Officer Search
Curing the Common Cold is easy, but this common stock stuff ?!...
OUR CLIENT'S NEED…This company is out to take down the common cold. And its incredible new compound could do just that, but they needed Talent, someone who knew how to handle the delicate balance between securing Angel Investment, Series A financing, and the R & D complexities of completing Phase 2 clinical trials. They had all the promising science in the world, and were attracting attention, but now they needed someone who could manage and implement the financial infrastructure so key to making it to market and staying there!
SEARCH CHALLENGES…Promising stories and "the next important medicine" are so common it becomes hard for prospective candidates to tell the Contenders from the Pretenders. They are skeptical and wary. It was our job to establish the trust necessary to allow our uber-talented candidates to really hear us out about our client's unique value prop. Before anyone interviews, they first have to believe, and before they believe, they have to listen. Our four decades of documented success give them comfort, and comfort opens minds.
OUR TALENT DELIVERY SOLUTION…In the end, we found a candidate with a passion for scaling companies and unleashing potential. Raised Billions in financial commitments, took now household name companies from "a pretty sad looking home lab to IPO", and created user friendly internal controls that allowed the company easy access to global growth. When we can match our candidate's passion with a client's purpose, we've done our job! And if we get a bit sentimental and gooey-eyed about our achievement, well, our client makes the fix!!
---